WHITE PAPER - Due Diligence list for outsourcing Software Projects
If you are considering an external vendor for your software projects, make sure to follow this due diligence list. This is not just to protect your investment, but to finish your project on time within budget every time.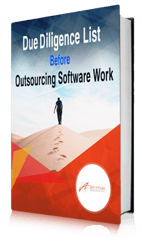 Learn How to
How to avoid budget overruns

How to select best agency/freelancer for your project

What are average rates for different agencies

Can

outsourcing work for you?

Biggest mistakes by small businesses.
Complete the small form on the right to download the whitepaper